Notes about Fiddler on the Roof
from
Tom Pedas, Music Director
---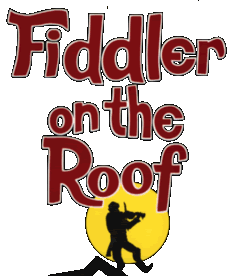 "Fiddler on the Roof" takes place in Anatevka, a small turn-of-the-century peasant Jewish village in Czarist Russia. The story revolves around the poor milkman/philosopher Tevye who schemes to marry off his five daughters according to his family's 'traditions'.

Tevye, one of the most memorable characters of the musical stage, is a religious Jew who has personal conversations with God. When his eldest daughter, Tzeitel, begs him to let her marry a poor tailor (with whom she has fallen in love) rather than the middle-aged butcher that he has already chosen for her, Tevye must choose between his own daughter's happiness and his beloved beliefs. Meanwhile, there are oppressive forces at work in Anatevka which force Tevye and his fellow villagers from their homes. When the community realizes that their world has changed they set out to find new lives in a new land, taking with them their few possessions and their abiding faith.

The musical gave birth to such hits as "Tradition," "Matchmaker, Matchmaker," "If I were a Rich Man, " and "Sunrise, Sunset". Memorable scenes include "Do You Love Me" sung by Tevye to his wife of three decades, Golde; the wedding scene with its bottle dance; the moment of parting when daughter Hodel goes, as the song puts it, "Far From the Home I love" and the wild dream scene. Memorable characters include Motel the tailor, Yente the matchmaker and the young Perchik, a member of the revolutionary resistance group who falls in love with one of Tevye's daughters.

"Fiddler on the Roof" opened in 1964 and is the eighth longest running musical. It is based on the short story "Tevye and His Daughters" by Sholom Aleichem. The music was written by Jerry Bock, Lyrics by Sheldon Harnick book by Joseph Stein and choreography by Jerome Robbins.Unlike previous musicals "Fiddler" dealt with serious issues such as persecution, poverty, and the struggle to hold on to one's beliefs. The story strikes a universal chord of hope, love and acceptance.
In addition to Fiddler on the Roof, Tom Pedas has served as Music Director for Cranford Repertory Theater's productions Anything Goes and Oliver!