Tom Pedas might just be called Linden's Music man - and for very good reason. The founder of the Linden Summer Playhouse, Tom is also the vocal music director of Linden High School's four singing groups, a full-time music teacher, and vocal music director of the high school's yearly musical productions. The latest musical 'Barnum, 'was performed just this past week.

"I love teaching - it's in my blood," Tom declared. It's obvious this enthusiasm spills over to his students. Under Tom's direction, the High School Concert Choir has won the highest award given for international choral competition at the Montreal International Music Festival. At the Heritage Music Festival at Newport, Rhode Island, the group received a "superior" rating for national choral competition. Tom's Madrigal Singers have likewise won honors in just about every competition they enter.

"My greatest reward is to take someone who has the potential for talent and give that student the opportunity to develop," Tom said, adding," It is so wonderful to see kids change and gain self confidence."

Tom's talent, combined with a pleasant nature and sense of fairness, have a lot to do with the student's interest and success. "One time I caught a student doing something he shouldn't have been doing - it was serious enough that he could have been suspended. I said, "I'll give you a break - if you come to boys choir for one week, I'll pretend I didn't see what happened." Tom's grin finished the story. The boy stayed in the group for the entire year, then auditioned for the select choir and made it. " He worked hard like everyone else. It's fun to work with them because they do like to work hard."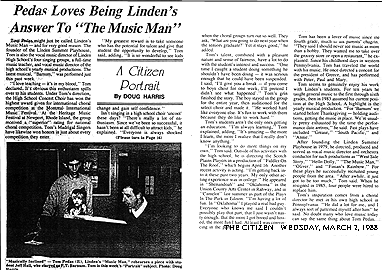 "I'm looking to do more things on my own,"Tom said.Outside of his activities with the high school Tom is directing the Scotch Plains Players in a production of 'Fiddler On The Roof' which begins April 16. Another recent activity is acting."I'm getting back into it these past two years. My only other acting experience was in college." He appeared in 'Shenandoah' and 'Oklahoma' in the Union County Arts Center in Rahway, and in 'Camelot'last summer as part of the Plays in The Park in Edison.
Tom has been a lover of music since the fourth grade, much to his parents' chagrin. "They said I should never see music as more than a hobby. They wanted me to take over the grocery store or open a restaurant," he explained. Since his childhood days in western Pennsylvania, Tom has traveled the world with his music. He once directed a concert for the president of Greece, and has performed with Peter, Paul and Mary.
Tom seems to genuinely enjoy his work with Linden's students. For ten years he taught general music to the first through sixth grades, then in 1983 assumed his current position at the High School. A highlight is the yearly musical production. " For 'Barnum' we started before Thanksgiving - holding auditions, getting the music in place. Past plays have included 'Grease, ' 'South Pacific,' and 'Annie.'
After founding the Linden Summer Playhouse in 1979, he directed, produced and served as vocal music director and orchestra conductor for such productions as 'West Side Story, ' 'Hello Dolly,' 'The Music Man,' 'Oliver, ' and 'Finian's Rainbow.' For these plays he successfully recruited young people from the area. "After awhile, it just got to be too much," Tom said. When he resigned in 1985, four people were hired to replace him.
Tom's inspiration comes from a choral director he met in his own high school in Pennsylvania. "He did a lot for me, and I always sort of patterned myself after him," he said. No doubt many who love music today can say the same thing about Tom Pedas.