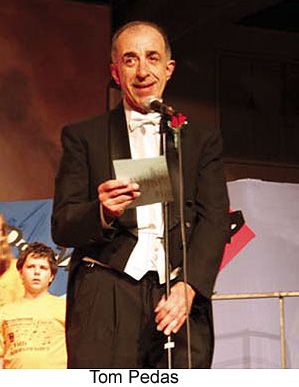 GARWOOD - The name Tom Pedas is legendary among vocal musicians in Union County. Mr. Pedas,of Garwood, will be recognized for his lifetime commitment and dedication to theater in New Jersey by being inducted into the New Jersey Theater Hall of Fame presented by the New Jersey Association of Community Theaters (NJACT). The award ceremony will be held at the Hilton Somerset on Sunday, September 20.

His lifetime of theatrical and musical achievement is a diverse and encompassing one. Mr. Pedas founded the Linden Summer Playhouse in 1979, one of the first known youth theaters in New Jersey. "It started as an outgrowth of the Linden Recreation Department because we wanted to give teenagers practical and performing experience in musical theater," he said in a recent interview with The Westfield Leader and TheScotch Plains-Fanwood Times.

By 1979 the theater company became a non-profit organization and was opened to students from throughout the area. The Linden Summer Playhouse continued until 1997 and has given birth to many other community theaters in New Jersey. "It's gratifying to see that many of my students who got their start at the Linden Summer Playhouse are now involved as community or school directors and a host of others are involved in school, community, regional and even Broadway theater," he said with a look of a "proud papa" in his eye.

And Mr. Pedas has reason to be proud. A retired music teacher, having taught in both the Linden and Cranford Public Schools, where he also directed musicals, he has helped develop talent in hundreds of students throughout his career. "For students who participated in sports, the morning was the only time available for them to rehearse," he said. So when he saw raw talent, he went after a student to encourage participation in choir. "I think that one of my best gifts to the boys specifically was to help them bridge that vocally awkward time when their voices were changing from an anggelic soprano to a deep bass.

Directing also got him involved in the Cranford Repertory Theatre, the Cranford Dramatic Club and most recently Scotch Plains-Fanwood High School where he directed Westside Story and one of his most favorite musicals, Les Miserable. The latter, he said, was special because it was "challenging for the students vocally and they were able to present a spectacular show."

He has seen many of his voice students selected to prestigious All- State, All Regional, All-Eastern and National Choirs and given nomination nods and wins of Rising Star Awards from the Paper Mill Playhouse

For 15 years he was the director of the Celebration Children's Choir in Cranford which he originated. He had as many as 82 children in the choir. For the boys whose voices had changed but wanted to remain in the group, he formed the Young Men's Ensemble.

In his career, he was chosen to be the guest director of the Central Jersey High School Chorus, and the New Jersey All-State Junior High Honor Choir at various times. In 1979, Mr. Pedas was honored by the NJ Music Educators Association as Master Music Teacher of the Year for New Jersey.

The New Jersey Association of Community Theaters (NJACT) that is giving him the recognition honor is an organization dedicated to supporting theater in New Jersey and includes over 140 New Jersey Theater companies. The group's core mission is to celebrate outstanding achievements by artists of all disciplines involved in the performance and production of New Jersey Community Theater with the NJACT Perry Awards.

In addition to Mr. Pedas being honored, the NJACT board has chosen five others to be inducted intothe Theater Hall of Fame: Tony Didia, Carolyn Newman, John Maurer, Dan Maurer, and Matthew DiCarlo. For a complete listing of the Perry nominations and information as to securing tickets to the event, see the website www.njact.org.
---