Young conductor helps 'sing'in the millennium
by Bea Smith, Staff Writer
Worrall Newspapers
Thursday, June 10, 1999
---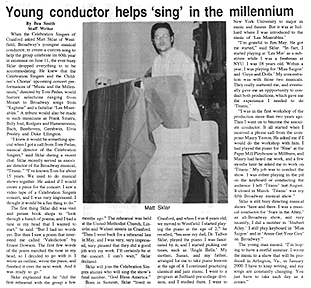 When the Celebration Singers of Cranford asked Matt Sklar of Westfield, Broadway's youngest musical conductor, to create a custom song to help the group celebrate its 60th year in existence on June 11, the ever-busy Sklar dropped everything to be accommodating. He knew that the Celebration Singers and the Children's Chorus' upcoming concert performances of "Music and the Millennium," directed by Tom Pedas, would feature selections ranging from Mozart to Broadway songs from " Ragtime" and a familiar "Les Miserables." A tribute would also be made to such musicians as Frank Sinatra, Billy Joel, Rodgers and Hammerstein, Bach, Beethoven, Gershwin, Elvis Presley and Duke Ellington.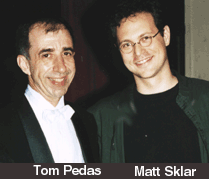 "I knew it would be something special when I got a call from Tom Pedas, musical director of the Celebration Singers," said Sklar during a recent chat. Sklar recently served as associate director of the Broadway musical,"Titanic." "I've known Tom for about 15 years. We used to do musical shows together. He asked if I would create a piece for the concert. I saw a video tape of a Celebration Singers concert, and I was very impressed. I thought it would be a fun thing to do."
The first thing Sklar did was visit and peruse book shops to "look through a bunch of poems, and I had a tune in my head that I wanted to start, "he said. "But I had no words yet. But then I saw a poem that interested me called 'Valediction' by Ernest Dowson. The first few words of the poem matched the tune in my head, so I decided to go with it. I wrote an outline, wrote the piece, and finished it over the next week, And it was ready to go." Sklar explained that he "did the first rehearsal with the group a few months ago." The rehearsal was held at the United Methodist Church, Lincoln and Walnut streets in Cranford. "Then I went back for a rehearsal late in May, and I was very, very impressed, very pleased that they did a good job with my work. I'll certainly be at the concert. I can't wait," Sklar declared.
Sklar will join the Celebration Singers alumni who will sing the show's final number, "God Bless America. "
Born in Summit, Sklar "lived in Cranford, and when I was 4 years old, we moved to Westfield. I started playing the piano at the age of 2, " he recalled, "because my dad, Dr. Talbot Sklar, played the piano. I was fascinated by it, and I started picking out tunes, such as 'Jingle Bells. ' My mother, Susan, and my father, arranged for me to take piano lessons at the age of 4. I continued practicing classical and jazz music. I went to a program at Julliard pre-college division, and I studied there. I went to New York University to major in music and theater. But it was at Julliard where I was introduced to the music of 'Les Miserables.'
"I'm grateful to Jim May. He got me started," said Sklar. "In fact, I started playing at 'Les Mis' as a substitute when I was a freshman at NYU. I was 18 years old. Within a year, I was playing for 'Miss Saigon' and 'Guys and Dolls'. My concentration was with those two musicals. They really nurtured me, and eventually gave me an opportunity to conduct both productions, which gave me the experience I needed to do 'Titanic'.
"I was in the first workshop of the production more than two years ago. Then I went on to become the associate conductor. It all started when I received a phone call from the composer Maury Yeston. He asked me if I would do the workshop with him. I had played the piano for 'Nine' at the Paper Mill Playhouse in Millburn, and Maury had heard me work, and a few months later he asked me to work on 'Titanic.' My job was to conduct the show. I was either playing in the pit on the keyboard or conducting the audience. I left 'Titanic' last August. It closed in March. 'Titanic' was my fifth Broadway musical show."
Sklar is still busy directing musical shows "here and there. I was a musical conductor for 'Stars in the Alley,' an all-Broadway show, and very recently, I did a number in 'Shubert Alley.' I still play keyboard in 'Miss Saigon' and in 'Annie Get Your Gun' on Broadway."
The young man mused. "I'm hoping to have a restful summer. I wrote the music to a show that will be produced in Arlington, Va., in January 2000. I have to keep writing, and my songs are constantly changing. You just have to take each day as it comes."
Go To News Articles