The Star-Ledger Director names two good reasons to stage "Amahl"

by Allison Freeman, Star-Ledger Staff
Wednesday, December 1, 1999
---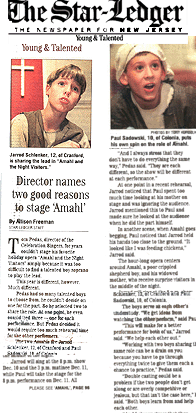 Tom Pedas, director of the Celebration Singers, for years couldn't stage his favorite holiday opera "Amahl and the Night Visitors" simply because it was too difficult to find a talented boy soprano to play the lead.
This year is different, however. Much different.
Pedas had so many talented boys to choose from, he couldn't decide on one for the part. So he selected two to share the role. At one point, he even considered three — one for each performance. But Pedas decided it would require too much rehearsal time for the other performers.
The two Amahls are Jarrod Schlenker, 12, of Cranford and Paul Sadowski, 10, of Colonia. The boys serve as each other's understudy. "We get ideas from watching the other perform," said Paul. "This will make for a better performance for both of us," Jarrod said. "We help each other out. "
"Working with two boys sharing the same role can be a drain on you because you have to go through everything twice to give them each a chance to practice, " Pedas said.
"Double casting could be a problem if the two people don't get along or are overly competitive or jealous, but that isn't the case here, " he said. "Both boys learn from and help each other. "
"And I always stress that they don't have to do everything the same way, " Pedas said. "They are each different, so the show will be different at each performance. "
At one point in a recent rehearsal, Jarrod noticed that Paul spent too much time looking at his mother on stage and was ignoring the audience. Jarrod mentioned this to Paul and made sure he looked at the audience when he did the part himself.
In another scene, when Amahl goes begging, Paul noticed that Jarrod held his hands too close to the ground. "It looked like I was feeding chickens," Jarrod said.
The hour-long opera centers around Amahl, a poor crippled shepherd boy, and his widowed mother, who receive surprise visitors in the middle of the night.
Jarrod will sing at the 8 p.m. show Dec. 10 and the 3 p.m. matinee Dec. 11, while Paul will take the stage for the 8 p.m. performance on Dec. 11. All performances are at the Cranford United Methodist Church and will be followed by a holiday concert performed by the Celebration Singers.
Both Jarrod and Paul are experienced singers. Jarrod was a featured soloist with the 1999 New Jersey All-State Elementary Honor Choir, while Paul sang solos in two operas at the Metropolitan Opera in New York.
For Paul, singing the part of Amahl is a nice change. After performing operas in German and other foreign languages, it's easier to sing an opera in English. "I enjoy singing in different languages, but the words are harder," he said.
Most children have small parts in opera, not usually a lead role, he said.
Jarrod, who is also the goal keeper for the New Jersey Knights soccer team, said singing in an opera is hard because you have to sing and act at the same time.
"The part of Amahl is a difficult one because you need a wide-range voice, "Jarrod said. "The part goes from very high to very low. "
Pedas hopes that his staging of the show and the talents of Paul and Jarrod will expose more people to the work composed by Gian Carlo Menotti and make this show a favorite among everyone who sees it.
Next to the "Nutcracker, " "Amahl and the Night Visitors" used to be one of the more famous musical Christmas traditions, Pedas said. "Unfortunately it is not as popular as it used to be."
People are concerned that local audiences will not support opera, Pedas said. They also worry they will not be able to find a talented boy to play the lead. That's something the Celebrations Singers didn't have to worry about this year.
Tickets for the opera and concert are $10 for adults and $5 for children and senior citizens. Call (908) 241-8200. They can be purchased in advance or at the door. Children 13 and under will be admitted free to the Saturday matinee as long as they are accompanied by a paid adult.
---