Students perform with choir

The Cranford Eagle

March 2, 2000
---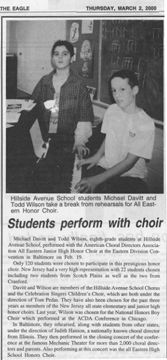 Michael D. and Todd W., eighth grade students performed with the American Choral Directors Association All Eastern Junior High Honor Choir at the Eastern Division Convention in Baltimore on February 19.

Only 120 students were chosen to participate in this prestigious honor choir. New Jersey had a very high representation with 22 students chosen including two students from Scotch Plains as well as the two from Cranford.

Michael and Todd are members of the Hillside Avenue School Chorus and the Celebration Singers Children's Choir, which are both under the direction of Tom Pedas. They have also been chosen for the past three years as members of the New Jersey all state elementary and junior high honor choirs. Last year, Todd was chosen for the National Honors Boy Choir which performed at the ACDA Conference in Chicago.

In Baltimore, they rehearsed, along with students from other states, under the direction of Judith Hanson, a nationally known choral director from Illinois. They then performed in the closing concert of the conference at the famous Mechanic Theater for more than 2,000 choral directors and parents. Also performing at this concert was the all Eastern High School Honors Choir.
---
Go To News Articles