Ted Pedas "Science at Sea "
ENRICHMENT LECTURE STAFF

Dr. Randolph J. Widmer

Maya Equinox Cruise - Sun Serpent descending at Chichén Itzá
Panama Canal - Millennium Cruise to the Future
---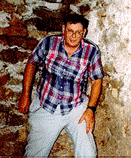 Dr. Randolph J. Widmer is an Associate Professor of Anthropology at the University of Houston, where he has been teaching since 1983. He received a B.S. degree in anthropology from Florida State University, and Master's and PH.D. degrees in anthropology from the Pennsylvania State University.

He has considerable research experience in the archaeology of North America and Central America. In North America he has directed archaeological excavations at sites in Florida, Georgia, South Carolina, and North Carolina. In Central America he has directed excavations at Teotihuacan and at the Late Classic Maya site of Copan.

He has a broad range of research interests, which include cultural ecology, tropical ecosystems, coastal adaptation, sociopolitical evolution, and craft specialization. He has specialized training in a number of archaeological techniques, including remote sensing, lithic use-wear analysis, and ecological analysis.

He has published numerous articles on North American archaeology, including the book Evolution of the Calusa, which discusses how a complex society formed without agriculture, instead relying on rich tropical coastal resources. It is this research which has given him a thorough knowledge of coral reefs which are found throughout the Caribbean, tropical rain forests, and indigenous groups throughout Central America.

Dr. Widmer has also conducted excavations in 1995 at the famous Key Marco site in southwest Florida, where the most spectacular artifacts ever recovered from a North American archaeological site were uncovered 100 years ago. He is continuing his research in Florida with excavations at the Shell Island site just north of Key Marco.

He has excavated at the Late Classic Maya Elite patio Groups 9N-8, Patio H, and 8N-11 at Copan. The excavations at 9N-8 chronicle the only Late Classic Maya lapidary workshop ever found. His interests are how craft specialization and production relate to the rulers and nobles of Classic Maya civilization. Dr. Widmer has been returning each summer to Copan to analyze the artifacts from this 1983 excavation. He has also been involved with excavations at another Elite Late Classic Maya residence at Copan, 8N-11. He has also analyzed and described lapidary workshops at the Classic period site of Teotihuacan and is interested in comparing craft production at Copan with that at Teotihuacan.

Because of his archaeological research in Copan and Teotihuacan, Dr. Widmer has also appeared in a number of segments of Out of the Past: An Introduction to Archaeology series broadcast on PBS in 1993 and 1994.

Dr. Widmer's broad practical and theoretical interests emphasize the comparative approach, one which focuses on the evolution of complex societies in the Americas and its relationship to environment and ecological concerns. His expansive field experiences excavating a number of different types of cultures, including the Classic Period Maya, and Teotihuacan provide him with a unique perspective on the rise and collapse of the Maya.