Ted Pedas "Science at Sea "
ENRICHMENT LECTURE STAFF

Robin Rector Krupp

Eclipse '99 - Black Sea Voyage to Darkness aboard Royal Olympic's Stella Solaris
Caribbean '98 Eclipse - Voyage to Darkness aboard Sun Line's Solaris
Asian '95 Eclipse - Voyage to Darkness aboard Orient Line's Marco Polo
Maya Equinox Cruise - Sun Serpent descending at Chichén Itzá
Voyages of Discovery - The Cradle of Civilization; The Ancient World
African Eclipse 2002 - Voyage to Darkness
---

Robin Rector Krupp writes and illustrates books for children. Three of these books have been done with her husband, Dr. E.C. Krupp, director of Griffith Observatory.

Two of her other books feature international journeys and were inspired by a lifetime of travel. She is the veteran of five total solar eclipses and has led journal workshops after four of them, encouraging others to capture the experience in art and words.

Robin was born into a family of teachers and travelers, and she inherited both passions. She has nearly 30 years of teaching experience. She has taught drawing and design at Pierce College, The Fashion Institute of Design and Merchandising, and California State University at Northridge. Currently she offers seminars on book illustration at Associates in Art at Van Nuys, California.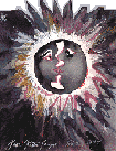 To explain the process of writing and illustrating books to an ever wider audience, Robin presents school shows across the United States. She arrives in costume, demonstrates drawing, and involves the children with helping her on stage. Her travels have included visits via small aircraft to tiny, remote Yúpik Eskimo schools on the permafrost by the Bering Sea.
She also lectures for the Society of Children's Book Writers and Illustrators. Last year she was on the staff of conferences in Tennessee and Arizona. This year she presented her first international program for school children, in Spanish, at the Museo de la Ciencia y el Cosmos on Tenerife, in the Canary Islands of Spain.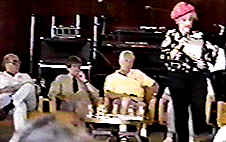 After receiving a B.A. in Painting from Pomona College and an M.A. in Painting from California State University at Northridge, Robin painted and exhibited in galleries for 10 years. In the late 1970's she was motivated to explore other ways to share her artwork with a wider audience at a cheaper price, so she went back to school at Otis Art Institute and UCLA to study book illustration. Class homework assignments led to writing as well as illustrating. The Krupps have now created three children's books on astronomy and are working on a fourth book. The first, The Comet and You, won the American Institute Best Science Writing Award, the first time a children's book was selected for the prize. The book also won " The Best Work of Non-fiction Award" from the Southern California Council for Literature for Young People.
The other joint Krupp titles are The Moon and You and The Big Dipper and You, which was selected as an "Outstanding Science Trade Book for Children" by the Children's Book Council.
Robin has written and illustrated three books, Get Set to Wreck!, Let's Go Traveling, and Let's Go Traveling in Mexico. The book Let's Go Traveling invites the reader to visit six countries of the world to see ancient places and was chosen to be in the Crown Collection, one of 25 books read in Christian schools across the United States.
Chosen twice to do the Summer Reading artwork for more than 25,000 children in the Metropolitan Cooperative Library System, Robin has also held a four-year post as Advisory member of the Southern California Children's Booksellers Association. In 1998, she will be honored by the Women's International Center for her work in children's books and presenting programs to more than 150,000 children.

---
View Robin Krupp's Shipboard Program