Ted Pedas "Science at Sea "
ENRICHMENT LECTURE STAFF

Frederick E. Allen

Maya Equinox Cruise - Sun Serpent Descending at Chichén Itzá
Panama Canal - Millennium Cruise to the Future
Around South America - Voyage to Lost Civilizations
---
Frederick E. Allen is no stranger to the Panama Canal — in fact, it could be said that he knows the Canal inside and out.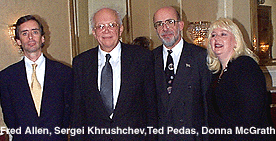 Allen, managing editor of American Heritage magazine, has also been the editor of its quarterly sister publication, American Heritage of Invention & Technology, since its founding in 1985. His cover story in the Fall 1996 issue of Invention & Technology, "Inside the Panama Canal,"is a history of the canal and a detailed account of a trip through it.
As part of his research for the article, Allen took part in a study tour organized by the Society of Industrial Archaeology, "an organization devoted to appreciating and preserving engineering landmarks," Allen writes. The group was able to see parts of the canal not on the usual tourist trails — including the railroad roundhouse, a remarkable example of a still working roundhouse when these structures are nearly extinct.
From Allen's article, we learn that the canal's mule engines, which run on straight tracks along the top of the lock walls to guide ships through the locks, were supplied in 1914 by General Electric at a cost of $13,000. The last time new engines were purchased, in 1986, the cost from Mitsubishi was $1.2 million. The massive lock gates can weigh up to 745 tons, but are so well balanced that they can be opened by hand by a single person turning a crank. The gates, as old as the canal itself, were made by the McClintic-Marshall Company, a Pittsburgh bridge builder, between 1911 and 1914. The hardware for the gates was cast by the Wheeling Mold and Foundry Company of Wheeling, WV.
He has written numerous other articles for American Heritage of Invention & Technology, American Heritage, New York, and other magazines including The Atlantic Monthly, Columbia Journalism Review, Travel and Leisure, and The New York Times Book Review on topics as diverse as artificial intelligence, the DC-3, Steinway pianos, and the history of bourbon whiskey.
Born in 1953 in New York City, Allen was graduated from Harvard College in 1975 with a degree in music. From 1975 to 1983 he was an editor at New York magazine. He joined American Heritage as a senior editor in 1984 and was named managing editor in 1990.
He is married to Erica De Mane, whose articles on Italian food have appeared in many major magazines. She is the author of a pasta cookbook published by Scribner's in 1998 and is a contributor to the new edition of The Joy of Cooking.