Cindy Lahiff - Costumer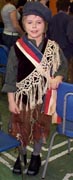 Cindy Lahiff never imagined that childhood years spent in Indiana, sewing a fab wardrobe for her Barbie dolls, could lead to the work to come later (much later!) in life. In addition to costume design and construction for more than forty plays and musicals, Cindy has had the incredible experience of key-costuming two full-length independent movies filmed in New York and New Jersey, as well as various shorts. In professional theater, she dresses Off-Broadway's favotite newlyweds in Tony n' Tina's Wedding but thankfully, refrained from using the same "flair" for Cosette and Marius!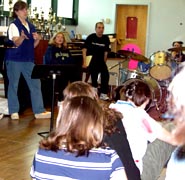 Cindy produced over 300 costumes for this all-student production of Les Misérables. She is remarkable to watch in action. A lace tablecloth can become a dress and she makes all her period hats. Thank you Cindy!